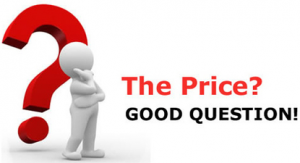 When you're selling your home, arriving at the right price can be tricky. You want to get as much as you can, but you don't want to price it so high that you don't get any offers. The condition of your house, along with the amount of property and the neighborhood where it is located, need to factor into the price point. To sell your house quickly, you need to set the price according. This article will help you determine the right price point.
Across the board, the real estate market is very sluggish right now. Many homeowners have to face the fact that their home isn't worth what it was a decade ago, if they've owned it for a while. Even though your situation may not be great, you have to be realistic in regard to where you stand. Although in the next few years the real estate market may go back up, you'll have to wait several years to see if this happens. If you want to sell your house this year, then you will have to sell it for how much it is worth right now. Since it is not as viable as it once was, you will probably only get bidders if you price it for today's value. Determining the value of your home simply comes down to comparing it to the sales of other homes in your area.
There are a lot of people who can be on your team including a realtor and an appraiser. An appraiser can give you a precise idea for what you can realistically ask for your home. This can be the best way to determine exactly what your home is currently worth; the only downside is having to pay the appraiser's fee. An appraiser will not overlook anything and use a precise formula that considers a home's square footage, how old it is and how much property you have. An appraisal also takes into account the state of the local real estate market, and the selling prices of homes that are comparable to yours. There's nothing an appraiser does that you couldn't do on your own, but it would be a lot of work and research. You can certainly sell your home without getting it appraised, and this decision to do this or not is entirely up to you.
If potential buyers are looking at your home but not making offers, you can look for clues for why this might be the case. Assuming that the price you're asking is fair, there may be something about your home or property that is turning them off. Sometimes that's just how real estate works! You should do a complete tour of your home, inside and out, and try to figure out what the problem might be. If you have pets, for example, or someone in your house smokes, this could be causing an odor. A house that looks disorganized, chaotic or cluttered is also not attractive to potential buyers. If your lawn is too long or full of weeds, this doesn't make a good impression on people either. These are all factors that can turn away prospective buyers, so pay attention to them.
In conclusion, pricing your house for sale requires you to utilize strategies that can help you, some of which you have just read. Selling your house, and the price point that you choose, will reflect your need to sell. You could stick with the higher price and see if you are able to sell it. The right buyer might come along. Keep in mind, if your home is similar to others in your area, more than likely, the people will buy those houses instead.